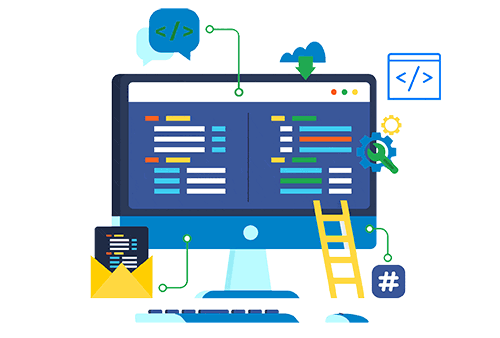 We are driven by Experience, Passion, and a Burning Desire to exceed expectations and redefine the Status Quo
Soshell takes a detailed interest in UX (user experience), UI (user interface), graphic, and front-end designers specialize in bringing usability and functionality to beautiful design for your website. Because when it comes to your business, your site has to engage visitors, build credibility, support your brand and, ultimately, help you achieve your business goals. That's why we start with a solid understanding of your business goals and objectives. We create modern and compelling websites that reward engagement and build brand equity across all devices, browsers, and markets.
Our experienced front-end and back-end designers, project managers, digital strategists, and other team members partner with you to understand your goals. Then, we learn what your users want and work with you to develop your new site in a way that meets both. No matter how simple or complex your website, we can handle it all! Have a lot of integration needs? No problem! Want a high-end design? Our designers cater to your specific needs! We focus on an easy-to-manage site and support post-launch of the website.
We develop smart and intuitive websites for efficient rental bookings. We build a unique website for you making you stand apart from the crowd. Customize your website and make it your own. Choose a rental theme or make it from the scratch start and customize your website using different fonts and colors according to your preference. Your website is your brand. It represents what you stand for. So, give it a look and feel that's in keeping with your business identity and create brand recall among customers.
Ecommerce is a flourishing industry right now. The quickly expanding web populace is making a gigantic interest in online shopping channels. Soshell has made its mark by serving numerous clients by helping them to create and manage their e-commerce platforms. We understand your needs, hence incorporating optimized features for you to start selling online with ease. Get on board to improve your Online Conversions. Today business owners are looking for the best platforms for their e-commerce website development, and we partner with you and turn your potential customer into buyers through online conversions.
Consultation Booking Platforms
Bring your business into the 21st century – everyone books online now! Customize your own design consultant booking system ready with help of experts. Design a professional and customized look for your booking website. Choose from our beautiful brand-new fully responsive website development skills of our team of experts to fit your company brand. You can even choose the most convenient way for your clients to see your booking availability for doctors, lawyers, beauticians, yoga, gym, dietitian, and more.
Travelling website portals
Travel Portal helps you take your travel business to the next level. We develop Excellent Travel Portals so that your brand can gain recognition and capture maximum clientele. We deliver a complete package of travel solutions right from website designing, travel portal development, or app development to API integration and maintenance. We offer extensive travel solutions for all types and sizes of travel business firms including B2B, B2C, B2B2C, etc.
Cargo and shipping websites
When it comes to the logistics of particularly large consignments, one of the main requirements is a trusted partner. The client had faced this issue many times resulting in canceled and delayed deliveries time and time again. Soshell is your one-stop solution different from all other logistics solutions. Here all the users start from Cargo Owner, right down to Logistic Companies, and event their individual assets (vehicles and drivers) are verified manually by verification partners, and only verified assets and companies can give logistics services to cargo owners.